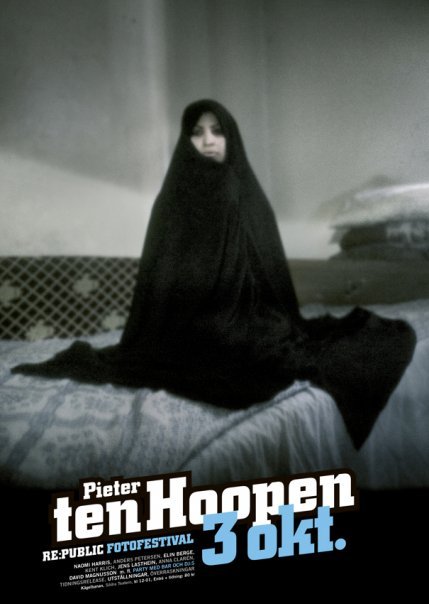 Fotografen Pieter ten Hoopens skildring av sitt möte med kvinnorna i Damaskus belönades nyligen med priset Årets bildreportage utland i tävlingen Årets Bild.
TWO WOMEN´S EXECUTION
"Hon kommer från Irak. Hennes man dog i kriget men hon har inga papper på det och får inte ersättning från FN:s flyktingsfond. Sängen hon sitter på finns i Damaskus, dit hon flydde undan våldet. I början städade hon på hotell. Någon berättade att hon skulle tjäna mer pengar om hon sålde sin kropp. Så hon är prostituerad. Nätterna igenom dansar hon på en nattklubb i stadsdelen Garamana för att locka någon man att köpa sex. När morgonen kommer får hon sova." SYDSVENSKAN/ lördag 13 mars 2010
They gathered there, men and monsters
Thousands of thousends
To watch two women´s execution.
They were there, those dead and those alive
Thousands of thousends
To watch two girl´s execution
Two prostituted girl´s execution.
The guards, the men of God, the mullahs
Men with beards, the murderers
All were there to perform two girls execution.
My town cried that day
Sky´s tears fell on my cheeks
The sky was sad, too.
The girls were taken to the square
By armed guards.
Men mumbled to each other
And I stared at the gallows
Men and monster
Cried and laughed
Those dead and those alive
All were there
To perform two girl´s execution
To watch two girl´s execution.
Nineteen and twenty-one years old
With beautiful faces covered by the fear of death.
Their crime:
Stealing clothes
Stealing food
And prostitution.
The murderers bind their chadors
Around their bodies
And hang them one by one.
Their bodies, trembled all
Over on the gallows
Their eyes full of fear in the
Presence of the death
And their hope and attempt
In vain.
The guards, into lines, cold formed,
Like chess soldiers
Under the greatness of the colored flag´s dance
And the vampire´s joyfulness screams
And the bloodcrying men´s eyes
Under the sky´s tears.
It´s impossible to escape death.
Hungry people and naked bodies
In poverty´s and misery´s territory
Hang on the gallows.
Yes, it is impossible to escape death.
ON WHICH SIN DO YOU JUDGE THOSE
WHO WISH TO HAVE A NEW SKIRT?
ON WHICH SIN DO YOU JUDGE THOSE
WHO ARE HUNGRY AND HAVE NOTHING ELSE
THAN THEIR BODIES TO SELL?
Those dead were pleased because
However ones again God´s will
Was completed.
Those alive cried like rain.
And my town cried
For the death of those two girls
Forty days.
From "Shadows, collections of poems" / ISBN 978-91-977393-1-3