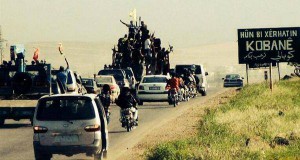 The Obama administration believes that it is not important to save the city of Kobane. They are willing to allow the city to fall. White House is thinking long term and strategic to eliminate the Islamic State, IS, they say.
Turkey stands and observe without reacting because Turkey believes that the Kurds had been their enemies for decades and it's good that they weaken. Instead of taking this opportunity by responding forcefully and thus starting a genuine reconciliation with the Kurdish people chooses the Islamic government of Turkey to help IS by not doing anything.
The United States´ sporadic and non-sufficient airstrikes is just grandstanding. Both the United States and Turkey pick political and military points if the two sides which are contrary to each other in Kobane eliminate or weaken each other.
What these countries do not care about are the thousands of innocent individuals who are already on the run, those who lost everything. It is also a fact that thousands of innocent men, women and children have been raped and murdered by the Islamic State, IS, so far, but for the United States, it is not strategically important to save Kobane.
America and Turkey, with their non-taking action in Kobane-issue are unfortunately alongside with IS in the genocide which is taking place in the region in these very moments.
THERE IS SILENCE, ONLY SILENCE
The sky is dark blue, ah
The horizon is full of blood
In a terrifying battle
There is silence, just silence
In MALALAS cry
In the river's blood
In tears of heart-blooding mothers
There is silence, just silence
The smell of blood
For hundreds of terrifying explosions in KOBANE
There is silence, just silence
A heavy silence
A criminal silence
A felonious silence
Widespread worldwide
A numb world
A lost world
As rude and indifferent
Watching and not acting
There is no voice
No chants
No one in the world who asks why
In spite of a seventeen-years-old voice
A Malala who questions
There is silence, just silence
The sky is dark blue
The sun is sad in KOBANE
The beautiful girl
In her house
With her teddy bear
In her arms
Torn into hundreds of pieces
Drowned in her blood.
fallen comrades
far away
Abandoned on the streets
In the burned city in war
The girl with long hair
With a bullet in the head
Sad and pale
On our city streets
The frozen city at war
Sings about the longing
Sings about the suffering
Despite so much brutality
Despite so much crime
Despite the massacre and the cruelty
Despite the groans and the screams
Despite the tears and the blood
There is silence, just silence
There is silence, just silence
Samuel E. Rajeus_Stockholm_10 October 2014