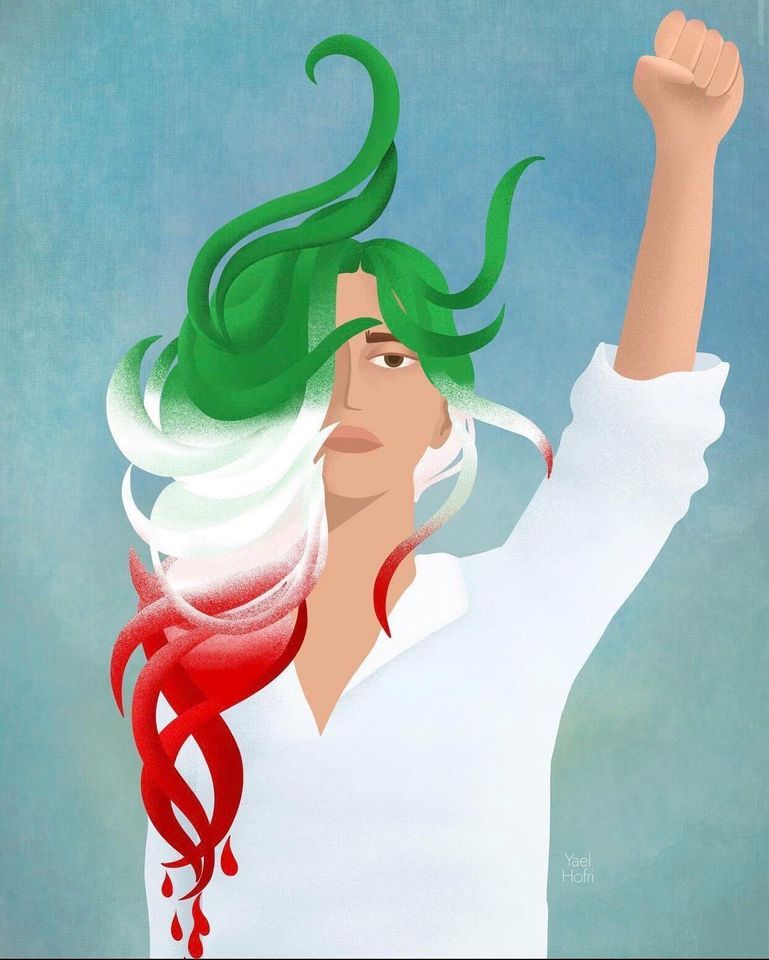 They locked the doors and left.
We got alone with the memories of
deception and deceit of those who
hijacked our country.
"Oh, dad, they gave me my sentence.
They will execute me for expressing
my opinion. For telling them that we need
a fair referendum.
Oh, dad, do not tell mom that they are going
to hang me."1
Oh, no dad, tell her, let mom know.
I know that our mothers are strong enough
to transform this sorrow into fighting spirit
for turning these barbaric rulers into nothingness.
These doors are not going to be locked forever.
We will see the God of rainbow.
"I like the God of rainbow"2
We are going out into liberty
and we are going to experience again
"The pretty hair of the woman in wind"
The beauty of life
The sweet scent of freedom"3
Oh, my beautiful mother,
Oh, my beautiful sister and brother,
Oh, my beautiful love,
"Oh, my beautiful baby daughter Hannaneh,
I wish I could see you, one more time, before
these heartless killers destroy me.
Oh, I get a lump in my throat and can't speak."4
I know that I will not see the dawn
I love you all.
"I will Always Love You."5
"Do not cry for me on my grave.
Do not read and listen to the holy book on my funeral.
Just read poetry and listen to music."6
Because I despise their faith
"We despise your belief.
We curse your religion."7
"And promise me, oh, promise me
that you too will dance for me
the day of the liberation."8
You asked me: Do you see "The Wind in My Hair"?9
Oh, ja, I have already seen the wind in your hair.
I already see the wind in your hair my love.
But these heartless monsters,
these traitors,
the executioners,
these judges of evil,
this leader of evil,
these protectors of evil,
will be captured forever
behind locked doors of
their wicked hearts.
©Samuel E. Rajeus, Sweden, 01/11/2023
Citation:
Part of Mohammad Mahdi Karami´s, 22 years old, phone conversation with his father before being executed by hanging, alongside Seyyed Mohammad Hosseini, 39-year-old volunteer children´s coach, on 7 January 2023.
Kian Pirfalak, 9-year-old boy who got shot and killed in his parent´s vehicle in the city of Izeh, Iran, by Iranian revolutionary guard on November 16, 2022.
Women, Life, Freedom is Iranian slogan in Iran´s latest upraising since September 16, 2022, following Mahsa Jina Amini´s, 22, death in prison by Iranian morality police.
Hassan Firozi, 34 years old, being captured of Iran´s revolutionary guard on October 27, 2022, facing death penalty. Wishing to see his child, just a 3-month-old baby girl.
I Will Always Love You is a song written and recorded by Dolly Parton in 1973 and later recorded by Whitney Houston in 1992.
Part of Majid Reza Rahnavard´s will who was executed by hanging, just 23 years old, in Mashhad, Iran on 12 December 2022 after being in captivity just for a few weeks.
Lyrics written and recorded by an Iranian singer/songwriter that became viral recently.
The wish of Mohsen Shekari, 23 years old, who was executed by Iranian authorities on 8 December 2022 after being in captivity for just a few weeks.
The Wind in My Hair is a book written by Masih Alinejad, an Iranian journalist in exile. Also, a music video with the same name by Mandy Moore, Disney Channel, released in 2018.